Schiphol Group zet voet op Chinese bodem
Nieuws
->
Schiphol
Bron: Schiphol Group
13-03-2008
Schiphol Group heeft een samenwerkingsovereenkomst getekend met Guangzhou Baiyun International Airport voor de ontwikkeling van commerciële activiteiten op de luchthaven van Guangzhou. De overeenkomst werd vandaag ondertekend door Frits Kuipers, Directeur Consumers International, en de heer Cai Chaolin, Deputy General Manager Guangzhou Baiyun International Airport Ltd.

Schiphol Group adviseert Guangzhou bij de verdere ontwikkeling van de commerciële activiteiten, met name op het gebied van management en bedrijfsvoering van retail en horeca. Het samenwerkingscontract heeft een looptijd van twee jaar, met een optie op verlenging. Schiphol zal voor deze periode een van haar mensen in Guangzhou stationeren.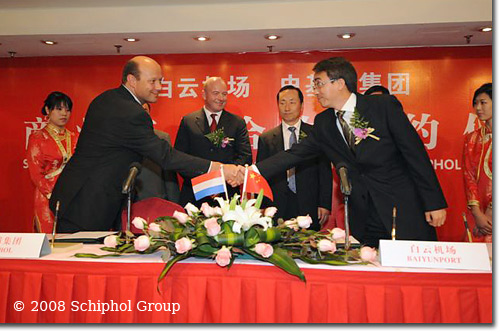 (Schiphol Group - 2008)



Frits Kuipers, Directeur Consumers International van Schiphol Group (links), en de heer Cai Chaolin, Deputy General Manager Guangzhou Baiyun International Airport Ltd
De heer Liu Zijing, President Guangdong Airport Management Corporation, wees tijdens de ondertekening van het contract op de commerciële kennis en ervaring van Schiphol Group en de voordelen die Guangzhou kan behalen met deze samenwerking.
Schiphol Group verwacht veel van de samenwerking. CFO Pieter Verboom:"Met dit samenwerkingsverband zetten we voet op Chinese bodem. Het is een eerste stap om onze
AirportCity formule in China te vermarkten en het opent ook mogelijkheden voor de ontwikkeling van andere onderdelen van de AirportCity concept, bijvoorbeeld op het gebied van vracht en vastgoed."
Luchthaven van Guangzhou
Guangzhou Baiyun International Airport is na Beijing de grootste luchthaven van China. De luchthaven is de thuisbasis van China Southern Airlines, die partner is van Air France-KLM. China Southern Airlines is een van de grootste airlines van China met 142 binnen- en buitenlandse bestemmingen. China Southern vliegt dagelijks, via Beijing naar Amsterdam Airport Schiphol.
In 2007 reisden 30 miljoen reizigers via Guangzhou Baiyun International Airport, en werd er 650.000 ton vracht vervoerd. In 2010 verwacht de luchthaven van Guangzhou dat 40 miljoen passagiers via de luchthaven zullen reizen, in 2015 hoopt men het aantal van 60 miljoen passagiers te bereiken.
De stad Guangzhou, in de provincie Guangdong telt 12 miljoen inwoners. De regio maakt deel uit van de Pan River Delta met een totale bevolking van 450 miljoen inwoners; een kwart van de totale Chinese bevolking.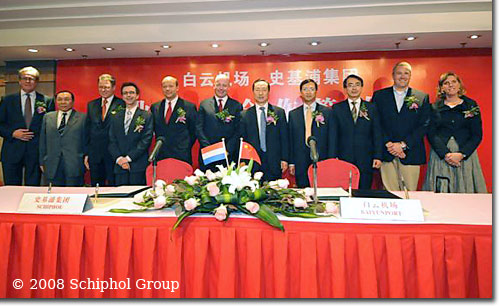 (Schiphol Group - 2008)



De Nederlandse en Chinese delegatie
Schiphol Group sets foot on Chinese soil
Schiphol Group and Guangzhou Baiyun International Airport signed a contract for the
development of commercial activities at the airport in Guangzhou. The contract was signed today by Frits Kuipers, Director Consumers International and Mr Cai Chaolin, Deputy General Manager Guangzhou Baiyun International Airport Ltd.
Schiphol Group will advise Guangzhou in the further development of commercial activities, particularly in the area of (operational) management of commercial activities such as retail and bar and restaurant facilities. The contract is initially for a two-year term with an option to extend. Schiphol Group will station one of its people in Guangzhou for this period.
During the signing ceremony, Mr Liu Zijing, President of Guangdong Airport Management Corporation, talked about Schiphol Group's commercial knowledge and expertise and the advantages that Guangzhou will gain from this cooperation.
Schiphol Group expects a lot from this partnership. CFO Pieter Verboom said: "With this collaboration, we set foot on Chinese soil. It is a first step in marketing our AirportCity formula in China and opens new opportunities for the development of others areas of the AirportCity concept, for example the areas of cargo and real estate.
Guangzhou Airport
Guangzhou Baiyun International Airport is China's second largest airport in terms of passenger numbers. The airport's hub carrier is China Southern Airlines, partner of Air France/KLM. China Southern Airlines is one of the largest airlines in China and also has the densest network. The airline operates flights to a total of 142 domestic and international destinations. China Southern operates daily flights to Amsterdam Airport Schiphol via Beijing.
In 2007, 30 million passengers and 650,000 tons of cargo were transported via Guangzhou
Baiyun International Airport. The airport is one of the three most important airports in China
(alongside Beijing and Shanghai). The airport expects to achieve a substantial increase in passenger numbers in the coming years, with 40 million expected in 2010 and 60 million by 2015.
Over Schiphol Group
Schiphol Group is een exploitant van luchthavens die als missie heeft om duurzame waarde te creëren voor haar stakeholders door het ontwikkelen van AirportCities en het positioneren van Amsterdam Airport Schiphol als de meest toonaangevende AirportCity. De onderneming heeft de ambitie om een van de meest toonaangevende luchthavenondernemingen ter wereld te zijn.
Schiphol Group is eigenaar en exploitant van Amsterdam Airport Schiphol, Rotterdam Airport en Lelystad Airport en bezit 51% van de aandelen in Eindhoven Airport. Buiten Nederland neemt de onderneming via Schiphol USA Inc. deel in JFKIAT dat Terminal 4 op John F. Kennedy Airport bij New York exploiteert, en heeft het een belang in Brisbane Airport Corporation, exploitant van de luchthaven van Brisbane in Australië.
http://www.schipholgroup.com
Amstelveenweb.com is niet verantwoordelijk voor de inhoud van de nieuwsberichten.