Tennis wereldkampioenschap in De Kegel in Amstelveen
Nieuws
->
Sport
Bron: Angel Souisa
26-05-2010
Een wereldkampioenschap bij het Tennis- en Badmintoncentrum 'De Kegel' in Amstelveen? In 2010 zijn wij gastheer van de 'Tennis Team World Championship.' Het is een WK voor tennissers die hun land/roots willen vertegenwoordigen.

Tenniscoach Jack Souisa is initiatiefnemer van dit sportevenement. In het weekend van 12 en 13 juni 2010 zullen de "interlands" op de binnenbanen worden afgewerkt. Jack: "Tegenwoordig werk ik met veel mensen, die uit een ander land komen en die hier voor een korte of langere periode komen wonen en werken. Enkele jaren geleden riep ik een twaalftal spelers bijeen, die bij mij aan het trainen waren en vroeg ze waar ze vandaan kwamen.

Het antwoord was verrassend. Uit elf (!) verschillende landen. Toen ontstond bij mij het idee, om het z.g. Wereldkampioenschap Tennis te gaan organiseren. Een unieke kans om dit TEAM EVENT op 'De Kegel' te houden. Een betere locatie is niet denkbaar.

Mensen die om wat voor reden dan ook in Nederland zijn gekomen kunnen op deze wijze trots hun eigen vlag vertegenwoordigen. Het is ook een uitgelezen mogelijkheid andere sporters te ontmoeten. Al met al een feest." Voor meer informatie kunt u contact opnemen met Jack Souisa (06-23359188) of email naar worldtennis2010@gmail.com .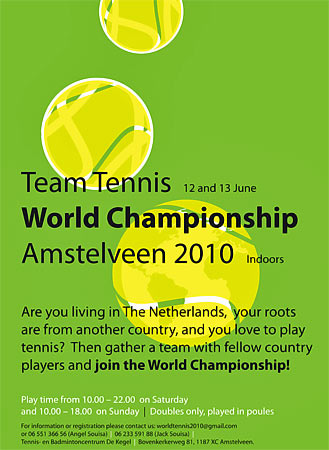 (Bron A. Souisa - 2010)



'Tennis Team World Championship' flyer
World Championship for national teams

A world championship at De Kegel in Amstelveen (The Netherlands)?

In 2010 Tennis & Badmintoncentre 'De Kegel' is hosting the Tennis Team World Championship. It is a World Championship for tennis players, who want to represent their country/roots.

Tennis coach Jack Souisa is the initiator of this sport event. In the weekend of 12 and 13 June 2010 the international tournament will be played indoors. Jack: "Currently I work with a lot of pupils, who come from another country and who are here for a short or longer period to work and reside.

A few years ago I called twelve pupils together during a training, and asked them which country they were born in. The answer was a big surprise. From eleven(!) different countries. At that moment I got the idea to organize the so called World Championship Tennis.

A unique chance to have this TEAM EVENT at De Kegel. What better location can you get, being in the middle of such diversity regarding nationalities? Regardless of the reason people came to The Netherlands, tennis players can proudly represent their own flag. It is an outstanding opportunity to meet other sporters. What a festive occasion!"

For more information please contact Jack Souisa (06-23359188) or email to worldtennis2010@gmail.com .
Amstelveenweb.com is niet verantwoordelijk voor de inhoud van de nieuwsberichten.