KLM introduceert vernieuwde Japanse maaltijdservice
Nieuws
->
KLM
Bron: KLM
16-01-2008
KLM lanceert de vernieuwde Japanse maaltijdservice aan boord op haar vluchten naar en vanuit Japan. Zowel in de World Business Class als in de Economy Class is de receptuur van de maaltijden door Hotel Okura Amsterdam onder leiding van topchef Akira Oshima samengesteld. Bovendien is speciaal voor KLM's World Business Class op de Japanse routes door het gerenommeerde Japanse merk Noritake een bijpassend servies samengesteld.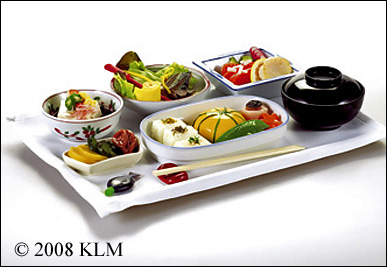 (KLM - 2008)



Nieuwe Japanse maaltijdservice
Op de vluchten naar en vanuit Japan heeft de passagier voortaan de keuze tussen een Westerse of een authentieke Japanse maaltijd. "Daarnaast kunnen de Japanse passagiers gebruikmaken van de service van Japans cabinepersoneel, Japanse video- en audioprogramma's, Japanse kranten en magazines in de Japanse taal. Voor en na de vlucht kunnen de Japanse passagiers op Schiphol en op de KLM-bestemmingen Tokio en Osaka in Japan rekenen op de service van Japans sprekend grondpersoneel", aldus Marc Lammens vice president van KLM Marketing & Brand.
De nieuwe maaltijdservice is vandaag in Amsterdam door KLM en Hotel Okura Amsterdam gepresenteerd tijdens een proeverij in het Okura Hotel. De presentatie voor de Japanse markt vindt op 16 januari 2008 plaats in Tokio en een dag later in Kobe, nabij Osaka.
"We zijn er trots op de nieuwe Japanse maaltijden aan boord te kunnen aanbieden in samenwerking met het gerenommeerde Hotel Okura Amsterdam", aldus executive vice president Bart Vos van KLM Inflight Services. "We hebben een continue focus op alle onderdelen van ons product aan boord. Deze vernieuwde routegerichte services is daar een belangrijk onderdeel van."
"Onze topchef Akira Oshima staat borg voor absolute topkwaliteit als het om Japanse culinaire prestaties gaat", zegt president & general manager Marcel van Aelst van Hotel Okura Amsterdam. "We vinden het een eer dat we daar nu ook de KLM-passagiers naar en vanuit Japan van kunnen laten genieten."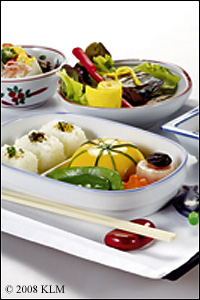 (KLM - 2008)



Nieuwe Japanse maaltijdservice dichterbij
Japan was in 1954 de eerste route, waarop KLM zogeheten Route Dedicated Services introduceerde. De KLM was toen de eerste Europese luchtvaartmaatschappij met Japans cabinepersoneel aan boord. Vergelijkbare Route Dedicated Services biedt KLM tegenwoordig ook op de vluchten naar en vanuit China, India en Korea.
KLM vliegt op dit moment dagelijkse retourdiensten tussen Amsterdam en Tokio en tussen Amsterdam en Osaka.
English translation:
KLM with Hotel Okura Amsterdam Presents New Japanese Inflight Meals
KLM Royal Dutch Airlines is today launching a new Japanese meal service on flights to and from Japan. The recipes for the new meals being served in both World Business Class and Economy Class were created at Hotel Okura Amsterdam under the guidance of master chef Akira Oshima.
The famous Japanese tableware manufacturer Noritake has also designed a special chinaware range for KLM's World Business Class to accompany the new meals on the Japanese routes.
Passengers on KLM flights to and from Japan now have a choice of Western or authentic Japanese cuisine. "Japanese passengers can also now be served by Japanese cabin crew and enjoy Japanese video and audio programs, as well as newspapers and magazines in Japanese. On the ground, both at Amsterdam Airport Schiphol and Tokyo and Osaka in Japan, Japanese passengers may be assured of the services of Japanese-speaking ground personnel," said Marc Lammens, vice president KLM Marketing & Brand.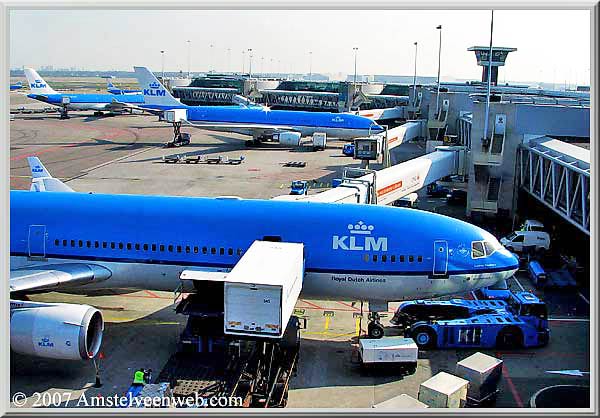 (Amstelveenweb.com collectie - 2007)



Een McDonnell Douglas de MD-11 PH-KCE Audrey Hepburn bij de gate op Schiphol
The new meal service was presented today by KLM and Hotel Okura Amsterdam at a special tasting held at Hotel Okura in Amsterdam. The new service will be presented to the Japanese market in Tokyo on January 16, and in Kobe, near Osaka, the next day.
"We are proud to offer these new meals on board in collaboration with the distinguished Hotel Okura Amsterdam," said Bart Vos, executive vice president KLM Inflight Services. "We are continually reviewing our inflight product. This new Japanese Route-Dedicated Service is an important step in this process."

"Our master chef Akira Oshima guarantees unsurpassed quality in the field of Japanese cuisine," said Marcel van Aelst, president & general manager of Hotel Okura Amsterdam. "It is an honor to be able to offer KLM passengers flying to and from Japan an opportunity to enjoy his creations."

In 1954, Japan was the first country to which KLM introduced Route-Dedicated Services. KLM was also the first European airline to introduce Japanese cabin personnel on board its flights to Japan. Route Dedicated Services are now also offered on KLM flights to and from China, India and Korea.

KLM currently operates a daily roundtrip service between Amsterdam and the Japanese cities of Tokyo and Osaka.
Amstelveenweb.com is niet verantwoordelijk voor de inhoud van de nieuwsberichten.