Opening Japan expositie in Potterie
Nieuws
->
Cultuur
Bron: Amstelveenweb.com
26-11-2006
Op zondagmiddag 26 november 2006 werd de opening verricht van een bijzondere tentoonstelling in Potterie Galerie Het Oude Dorp: met de titel JAPAN.
Tijdens de opening kon men kennismaken met
Robert Mulder
, fotograaf en journalist, waarvan 20 foto's uit Japan waren te zien en Masako Higashi die haar ikebana en keramiek kunstwerken toonde. Mulder stelde een fotoserie samen over de religie en rituelen tijdens het
Gion Festival
in
Kyoto
. De foto's laten een serieus en kleurrijk beeld zien van de vele honderden religieuze Japanners.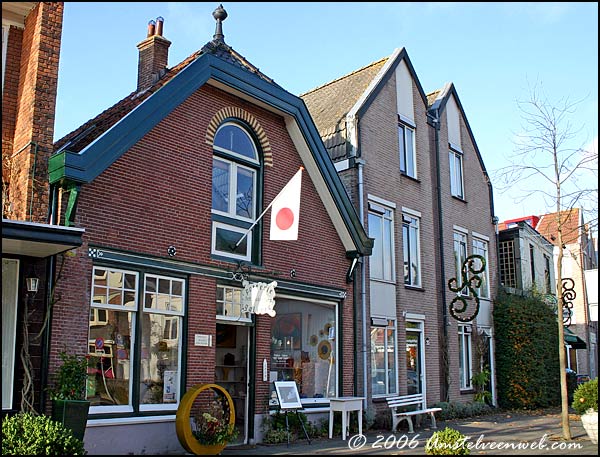 (Amstelveenweb.com collectie - 2006)



Potterie Galerie Het Oude Dorp
Vanwege de Japanse kunsten had Anne een even kunstzinnige vlag gemaakt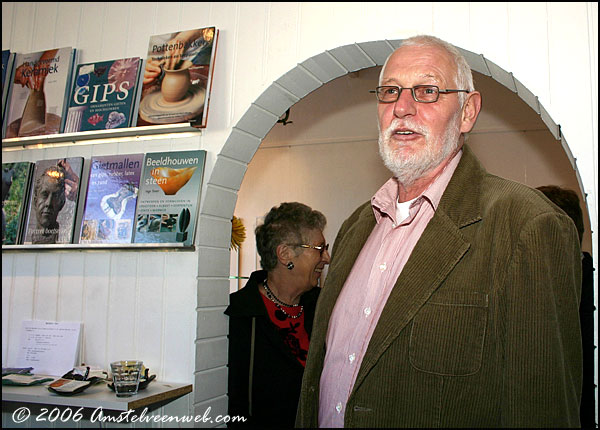 (Amstelveenweb.com collectie - 2006)



Anne Leegstra aan het woord
Masako Higashi had in Tokyo als kind al lessen ikebana van haar moeder en geeft nu zelf les in deze bloemschikken . Doordat ze aan soortgelijke festivals heeft meegedaan kent ze de sfeer en maakte voor deze expositie een aantal op Robert Mulder's foto's gebaseerde schikkingen ter ondersteuning hiervan.
Anne Leegstra hield een inleidend woord, waarna een openingsspeech werd gehouden door de heer Marc Verbeek, Honorair Consul Generaal van Japan. Vanwege de vele Japanse gasten was besloten de toespraak in het Engels te houden. De toespraak kunt u desgewenst onder aan de openingsfoto's lezen.
Aansluitend ziet u op de korte video Robert Mulder en Masako Higashi.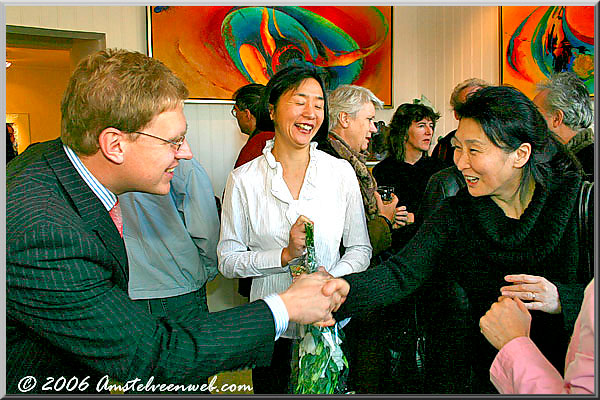 (Amstelveenweb.com collectie - 2006)



De heer Verbeek maakt met veel Japanse gasten kennis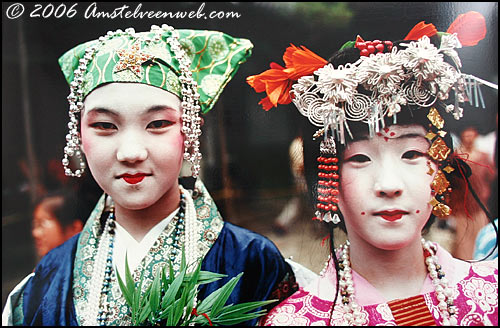 (Amstelveenweb.com collectie - 2006)



Foto van Robert Mulder: het Gion festival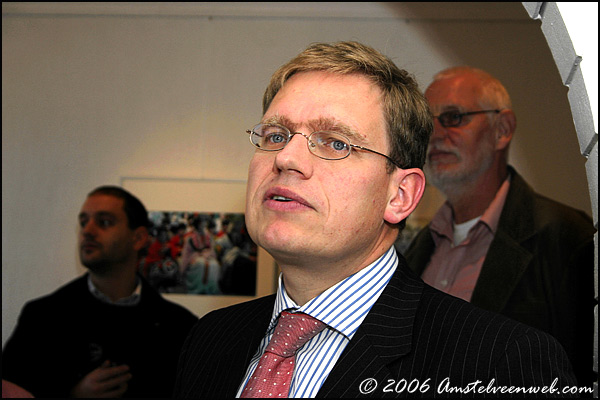 (Amstelveenweb.com collectie - 2006)



Honorair consul van Japan, de heer Marc Verbeek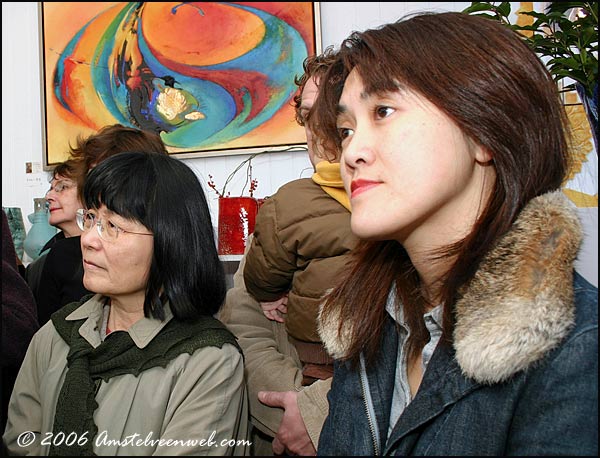 (Amstelveenweb.com collectie - 2006)



De Japanse dames luisteren aandachtig naar de consul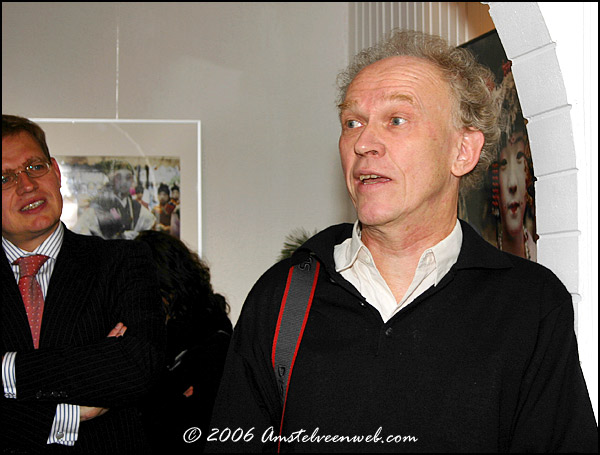 (Amstelveenweb.com collectie - 2006)



Robert Mulder, fotograaf, journalist en schrijver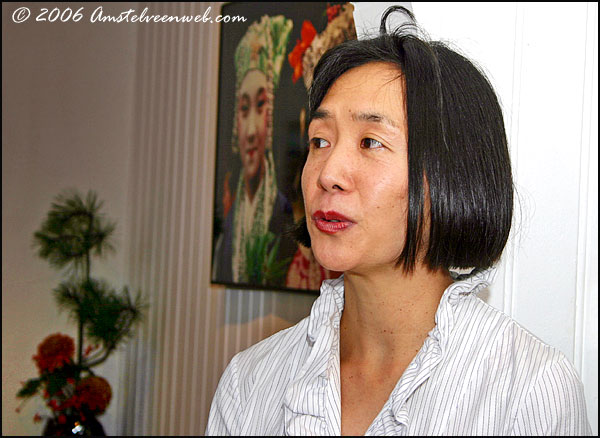 (Amstelveenweb.com collectie - 2006)



Mevrouw Masako Higashi, ikebana en keramiek kunstenaar tijdens haar speech



(Amstelveenweb.com collectie - 2006)



Een ikebana kunststuk van Masako Higashi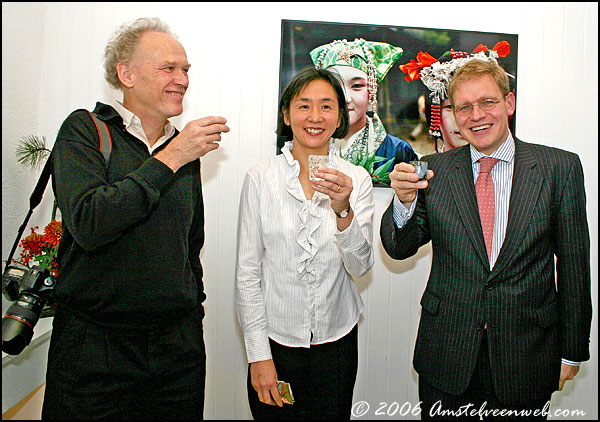 (Amstelveenweb.com collectie - 2006)



De twee kunstenaars met de consul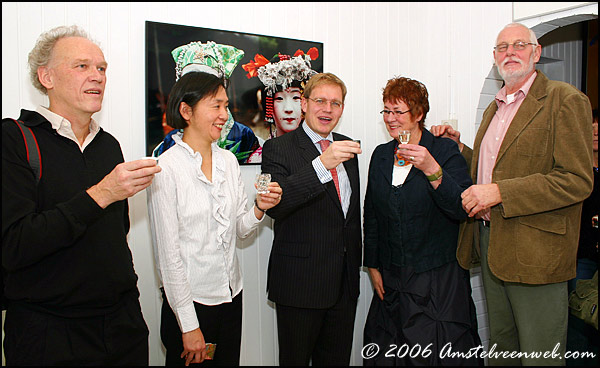 (Amstelveenweb.com collectie - 2006)



Groepsfoto met de hoofdrolspelers van de middag: Robert Mulder, Masako Higashi, Marc Verbeek, Lidy Leegstra en Anne Leegstra
Hier de toespraak:
"Ladies en gentlemen, dear guests, Mrs Higashi and Mister Mulder,
Welcome at the opening of the exhibition "Japan" at the beautiful Potterie/ galerie Het Oude Dorp in the city of Amstelveen.
My name is Marc Verbeek and as the Honorary Consul General of Japan, I am very honoured to lead the opening ceremony day. First of all I would like to compliment Anne en Lidy Leegstra who has made this exposition possible. As artists, as well as gallery-owners, they are an example of people, who commit themselves to all kind of art forms and art movements.
But they are also an example for people who work with different cultures and enjoy to share the common universal art values between different cultures. This is in my perception for this reason that they hold very strong and respectful ties with the Japanese community in Amstelveen, and of course, as many Dutch people, the plain and simple forms of Japanese Arts.
The "Amstelvener"Robert Mulder, (I hope I may call you 'Amstelvener', because although you live in the city of Groningen, you have a historical connection with Amstelveen.) travelled the world as a photographer for over 25 years. He mainly made series about refugees, politics, development programs and culture. He has experienced and described many worldwide developments an events.
One part of his interest is the Ritual aspect of cultures. The exhibition we are going to see is in this line of work. The 20 pictures in the gallery give a view of the Gion Festival in Kyoto. This festival, which started first 1200 years ago, is best known for its street parade of huge beautiful cars. Of course there is a long and interesting story behind this cultural event and these magnificent pictures. I advise you to read the story because it is absolutely worth while and gives you a different view on the pictures.
The second exhibition is an exhibition of Masako Higashi about the wonderful art of IKEBANA or, as we say in Dutch and western world: "bloemschikken".
But it is far too simple to compare the western and the Japanese versions. In contrast to the decorative form of flower arranging in western countries, the Japanese flower arrangement creates a harmony of linear construction, rhythm and colour. While westerners tend to emphasize the quantity and colours of the flowers, devoting their attention mainly to the beauty of the blossoms, the Japanese emphasize the linear aspects of the arrangement. They have developed the art to include the vase, leaves and branches, as well as the flowers.
Masako Higashi learned the art of IKEBAN in Tokyo, when she was a child. She developed her skills by lessons of her mother and became a teacher herself. For this double exhibition made Masako Higashi some arrangements in connection with a few pictures of Robert Mulder.
Ladies and Gentlemen,
As HCG I am proud to see much attention for Japanese culture and art. Because with all the differences between the Japanese and Dutch culture, you might easily forget, that there are also similarities. Our common love for art is certainly one of them. Again I would like to thank Anne and Lidy Leegstra for supporting our common love.
I hereby declare the exhibition"Japan"open. Thank You.
De expositie duurt tot 2 januari 2007
Adres: Potterie - Galerie "Het Oude Dorp" Dorpsstraat 29, Amstelveen.
Tel: 020-6472403 - Openingstijden: dinsdag t/m zaterdag 10 - 12.30 uur en 13.30 - 17.00 uur
Website:
Amstelveen-galerie.nl
Amstelveenweb.com is niet verantwoordelijk voor de inhoud van de nieuwsberichten.
OTHER LANGUAGES


LINKS